Most working days I walk through Queens Park on my way to and from town, passing a beautiful Queensland Bottle Tree (Brachychiton rupestris).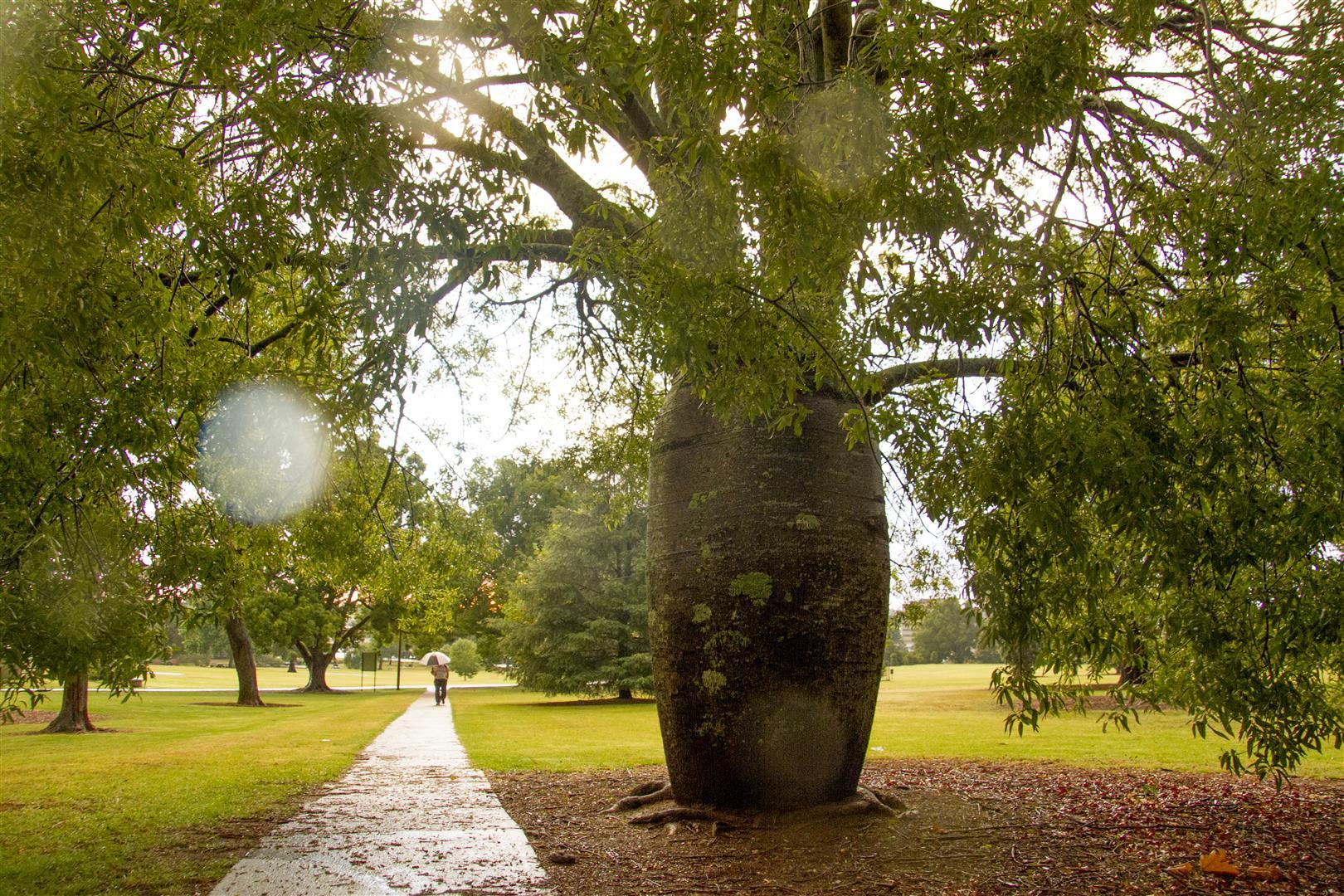 I ended 2012 by taking some extended leave, and each morning I walked the little black dog through the park, gradually slowing down and looking around instead of rushing to work.
While I'm a bigger fan of wild areas, there are always things to discover in parks. The more I looked at this tree, the more I saw and liked. Walkers, dogs, joggers ands cyclists pass directly under its canopy, lost in their thoughts and usually oblivious to its charms.
Over the next three months I kept looking, photographing it with whatever I had on hand. Not knowing anything about Brachychitons I was concerned when it shed most of its leaves in the hot, dry October/November weeks, thinking it was drought stressed.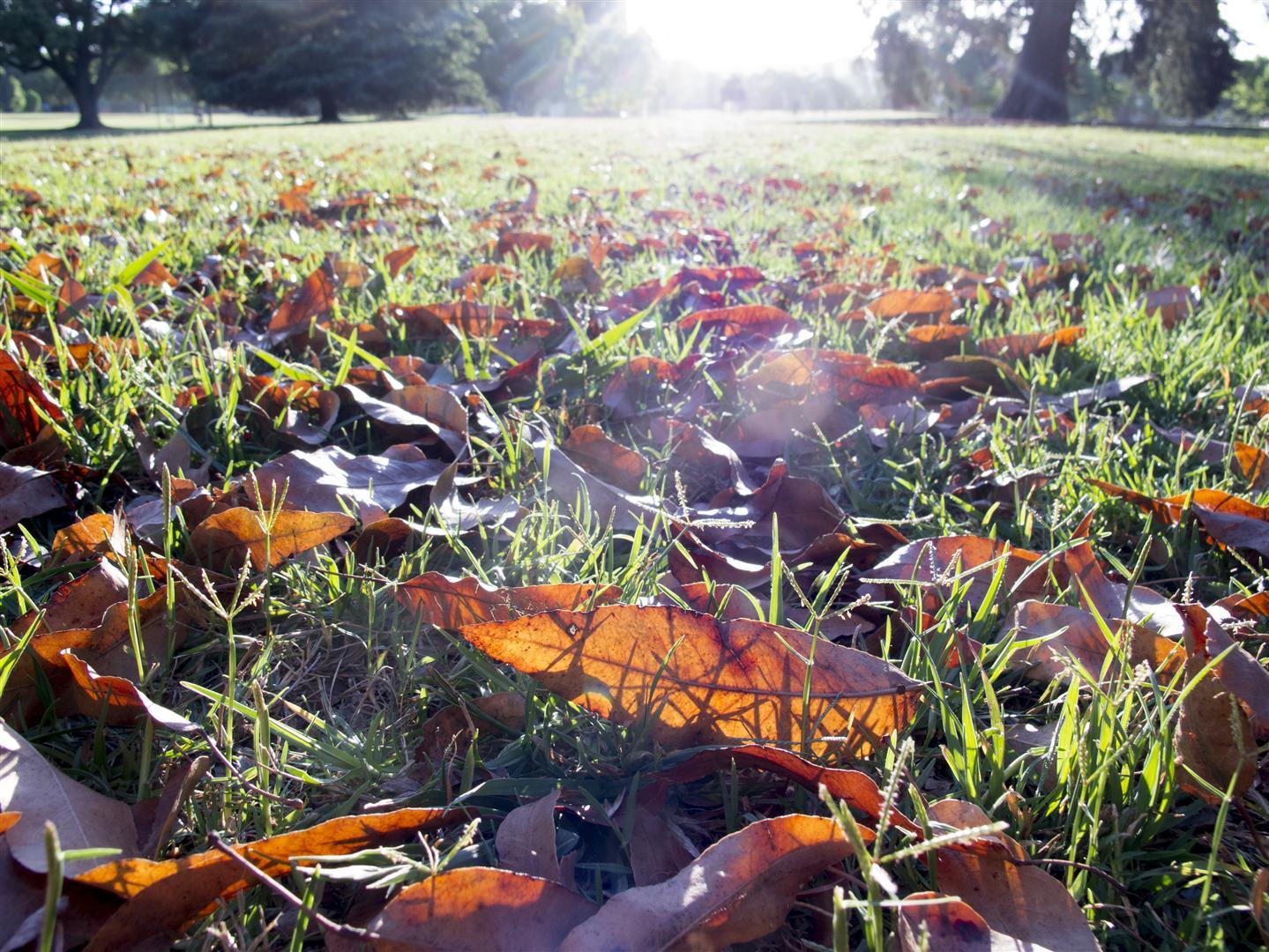 However, a bloom of new orange and pink foliage belayed my fears. I found out later that this is a characteristic of these trees — they often do this before flowering, and they can also shed leaves to conserve moisture during prolonged drought.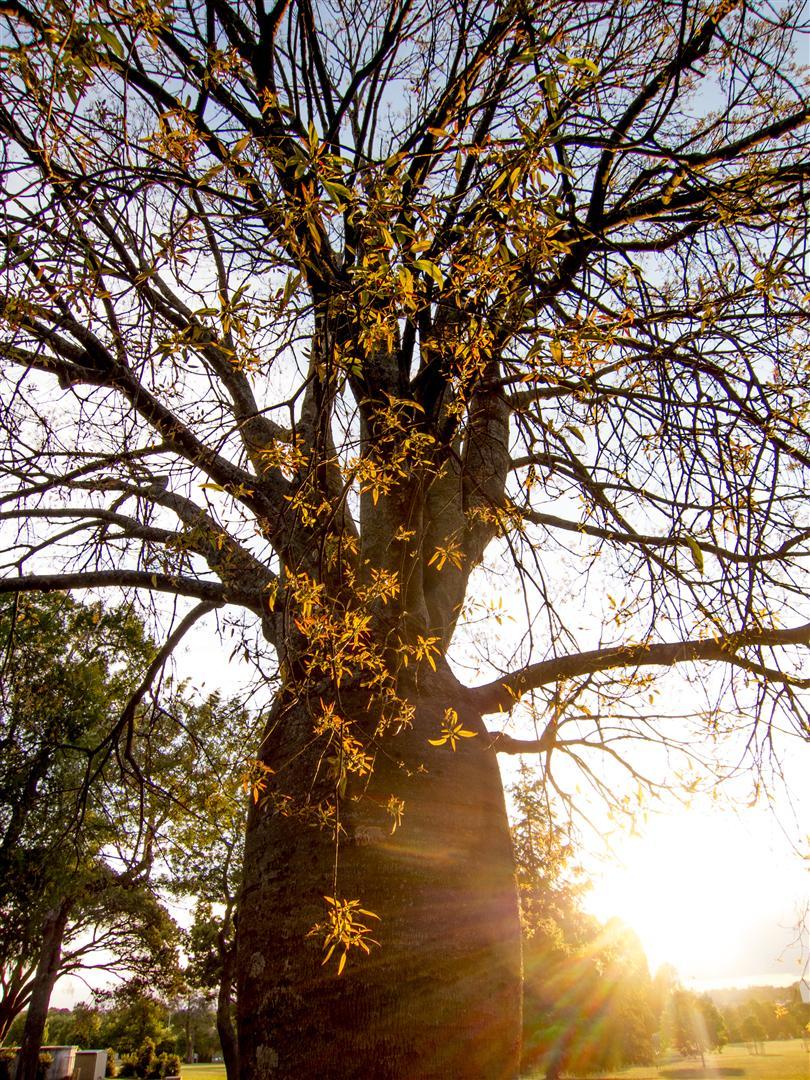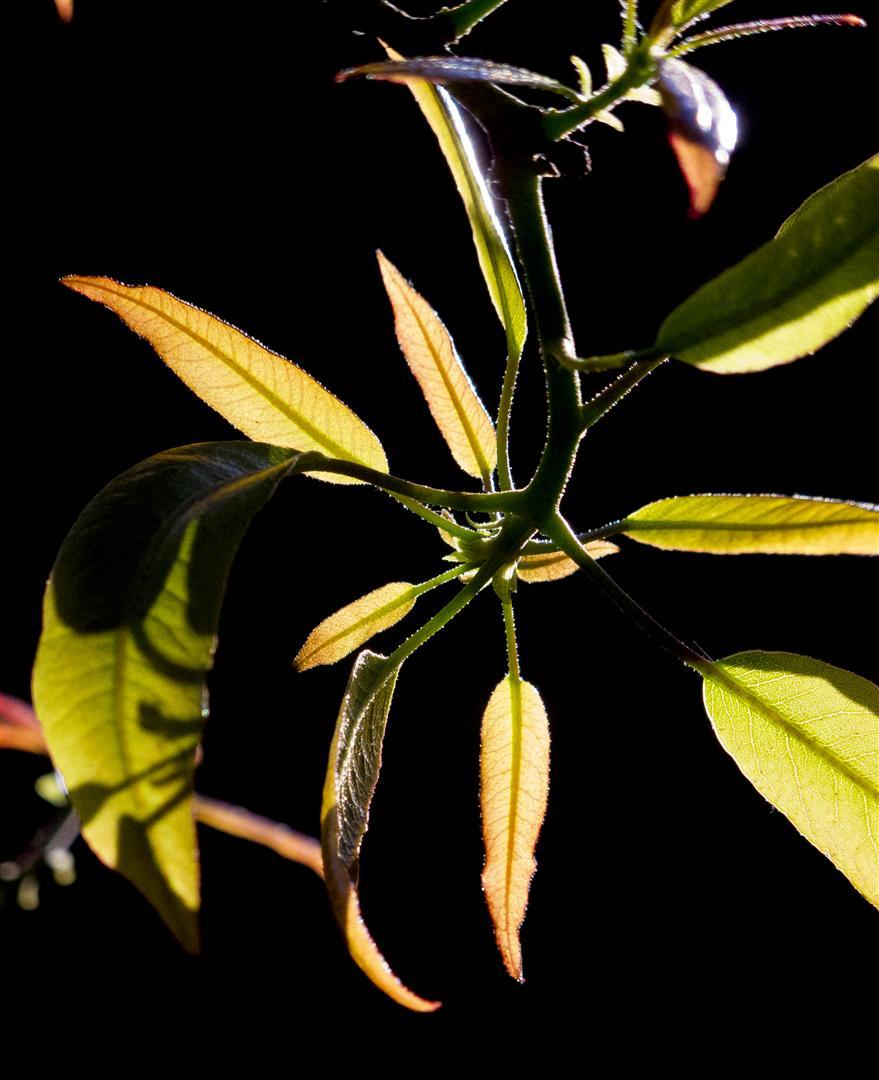 Also known as the Narrow-leaved Bottle Tree, this is one of 31 species of Brachychiton, with 30 found in Australia and one species in New Guinea. The common name "bottle tree" refers to the characteristic trunk of the tree, which can reach up to seven metres in circumference. Fossils from New South Wales and New Zealand have been dated at 50 million years old.
Queensland Bottle Trees are endemic to a limited region of Australia — Central Queensland through to northern New South Wales. In 1845 the explorer Thomas Mitchell led an expedition seeking an overland route from Sydney to the Gulf of Carpentaria. He ran into these trees on his journey, within the brigalow (Acacia harpophylla) scrub that covered much of central Queensland. Mitchell found some trees so wide that a horse standing side on was said to disappear from view. This tree would be the saviour of many early squatters.
The Bottle Tree's most striking characteristic was that its trunk was not made of sapwood like ordinary trees, but rather consisted of a spongy fibre, which was also filled with moisture. In times of drought, settlers would cut down bottle trees and peel off the bark — exposing the fleshy fibre, which cattle would eat. A large tree could satisfy a hungry, thirsty herd for weeks.
Indigenous peoples of course knew the value of this tree, carving holes into the soft bark to create reservoir-like structures, and the seeds, roots, stems, and bark have all been a source of food for people and animals alike long before white settlers arrived. The fibrous inner bark was used to make twine or rope and even woven together to make fishing nets.
Deemed a 'useful' tree, bottle trees were often left by settlers when they were clearing land. Today, solitary specimens are often seen in fields. To me they are reminders of times not so long ago when vast areas of central Queensland were covered in scrub.
In the brigalow-dominated landscape of the Queensland bio-region known as the Brigalow Belt, Queensland Bottle Trees were found within pockets of 'softwood scrub' — or 'semi-evergreen vine thicket', a type of scrubby, dry rainforest. These ecosystems show some of the characteristics associated with the wetter tropical type of rainforest but are less luxuriant, lacking species such as tree ferns, palms and epiphytes. They also have a reduced canopy height and are simpler in structure.
Adaptations found in these forests to drier environments include smaller, thicker leaves, swollen roots and stems, and an (optional) deciduous habit — meaning that plants can preserve moisture by losing their leaves in times of extreme drought.
Since white settlement approximately 83 percent of this type of ecosystem has been cleared, and the remaining patches are classified as endangered ecological communities.
About 20 percent of the remaining patches are found in protected areas, such as Cania Gorge, Carnarvon, Bunya Mountains and Expedition national parks. I've spent some magic hours walking within these remaining patches of softwood scrub, and it's always exciting to come across a large bottle tree within its original habitat.
Bottle Trees are also sought-after ornamentals, and line the streets of towns from Brisbane to Roma.
My solitary Queens Park tree, looking down onto Toowoomba's central business district, seems odd and out of place to me in this cultivated landscape — a strange, silent, and somewhat troubling reminder of wild times past, when tangles of un-tamed vine scrub ruled much of the land now civilised and ordered by farms and towns.