There's always something to discover in a Queensland backyard if you're into natural history, even if it's a fairly ordinary one like ours.
Returning from an early Saturday morning walk, the dog and I were stopped in our tracks. Our flowering Ivory Curl Flower tree (Buckinghamia celsissima) was alive with a swirling mass of Blue Tiger butterflies.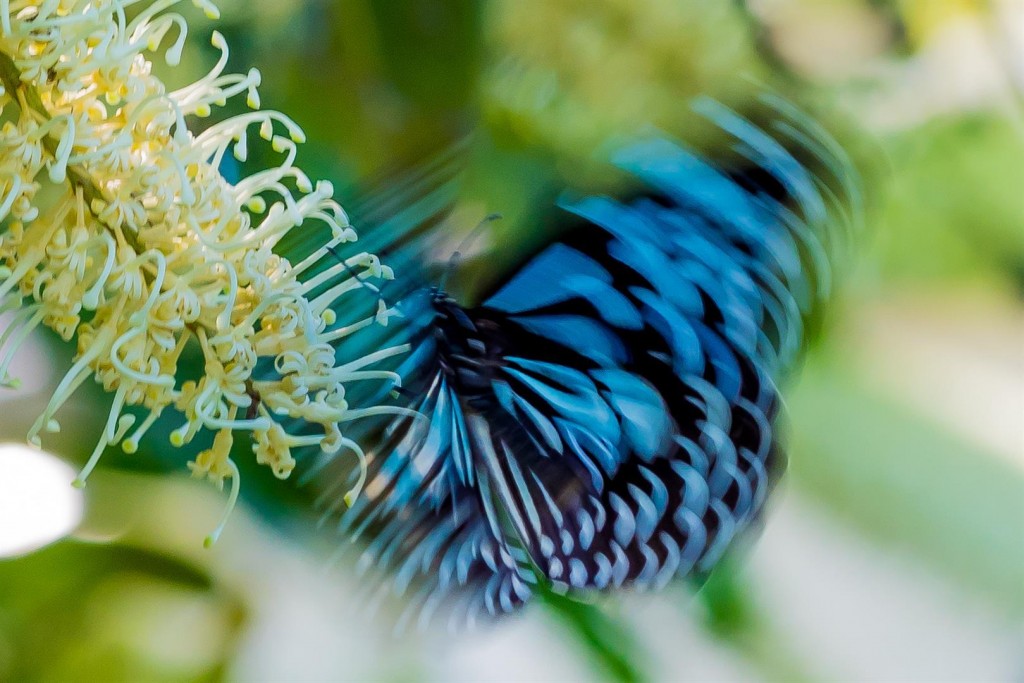 With the recent rain and heat our desert-like yard evolved into a weedy suburban Amazon, and with the green came the insects. Lots of them. Bladder Cicadas deafened all at twilight, Garden Orb-weaver spiders made each trip to the bin at night an arm-waving obstacle course and Scarlet Percher dragonflies buzzed us in our dodgy inflatable pool.
However, this swirling mass of butterflies was something else. Standing under the tree, I could see a stream of the fluttering insects doggedly heading toward our house from the south-west. As they neared the Ivory Curl Flower they'd drop immediately, landing and seeking nectar, oblivious to observers. Native stingless bees buzzed about dodging the butterflies as well as the tiny flower spiders seeking to capture a meal. A microcosm of insect activity centred on this one magnetic tree.
The Blue Tiger (Tirumala hamata) is one of the butterfly species that sometimes moves in enormous numbers across southern Queensland — others include the Caper White (Belenois java) and the Lemon Migrant (Catopsilia Pomona). The Blue Tiger is a member of the Danais group which includes many migratory butterflies, the most well-known of which is the Monarch. The Monarch undertakes huge regular migrations in America and even managed an overseas trip, arriving in Australia in the 1870s, possibly blown this way by cyclones or travelling as larvae stowed away on plants that subsequently became weed species here. Once established in Australia, the Monarch settled down to a more sedentary life, only undertaking less-ambitious journeys from inland areas to the coast as the temperature drops with winter.
Blue Tigers are also found in the Philippines, Indonesia, Solomon Islands, Fiji, Tonga and Samoa, In Australia, they breed in monsoon forest (vine thicket) and littoral rainforest in south-east Queensland, or around Darwin in the wet season when larval food plants produce new growth.
Blue Tiger butterflies can be hard to spot during winter but large numbers can still sometimes be found. Winter is a tough time for butterflies as host plants are unable to offer fresh foliage for larvae to feed on and fewer nectar sources are available. Some Australian species, such as the Blue Tiger, have a survival strategy: they gather in large numbers and put their lives on hold for the winter. This dormancy, or 'aestivation' (also known as 'overwintering') buys adult butterflies time. In summer an adult may only live for one to two months; however, a butterfly that has overwintered can live as long as nine months. Those few extra months may mean that winter butterflies can make it through to the spring, a much more favourable breeding time. Blue Tigers have been found overwintering in vine forest in sandy gullies and creek banks, resting on branches or twigs close to the ground.
Invalid Displayed Gallery
[CLICK ON IMAGES ABOVE FOR LARGER VIEW]
In spring and summer, they take to the air, often in huge numbers. Some claim that we are currently experiencing the highest number of butterflies seen in south-east Queensland for 40 years. When interviewed by the ABC, Queensland Museum curator Dr Christine Lambkin explained that the numbers were due to a combination of rain and heat providing perfect breeding conditions for these insects.
"We have had a long extended dry period that has been broken by good rains at the right time of the year," she said. "So we have got the warmth as well as the rain and that is what has caused the adults to break the aestivation, which is the insect hibernation, and emerge in numbers. Some of them will be trying to mate and lay eggs so that the caterpillars are going to come up on that flush new growth (of butterfly food plants) from the rain."
Are the Blue Tigers heading anywhere in particular? According to old mate Google, the online consensus appears to be that this species heads south from northern Queensland in spring and summer, moving through Brisbane (where they are normally not often seen) in large numbers. They have been recorded reaching as far south as Victoria. However, other observers have recorded them heading north, as seen at our place this year.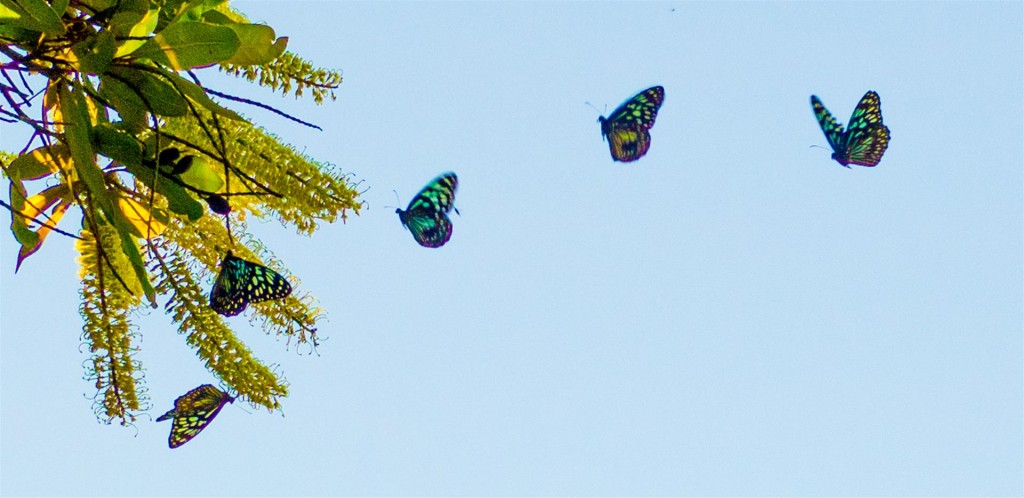 Queensland Parks and Wildlife Service ranger Rod Hobson recounts watching huge numbers of blue tigers " … flying north into the never-never of blue off the end of Sandy Cape at Fraser Island to perish at sea. I used to find large numbers of dead blue tigers in the beach wrack for days after these events." It's hard to imagine what they were seeking in the Pacific Ocean, if they had a destination in mind.
Strangely, when seen flying about later in autumn, Blue Tigers appear to be moving in different directions. I asked entomologist Chris Lambkin if the butterflies were perhaps being blown in one direction by prevailing winds. Chris does not believe this is the case; she has seen them moving east into the wind.
So it seems we don't know why they head in one direction. Clearly, the movement of butterflies in Australia is not well understood. Some research has been done — Dr Courtenay Smithers at the Australian Museum initiated a tagging program for butterflies in the 1970s, which gave some idea of the seasonal movement of Monarchs in Australia and discovered some over-wintering sites for the species. However, not a great deal appears to have been discovered about butterfly travel plans in the decades since. Much of what has been written on butterfly movement has appeared in the newsletters of ever-active organisations such as the Butterflies and Other Invertebrates Club and Land for Wildlife (see, for example, this article on Caper White migration).
Dr Lambkin believes there just isn't enough scientifically recorded information about these butterfly mass movement events to allow for the full picture. Why the Blue Tigers are all heading in one direction must, for the time-being, remain another of those wonderful mysteries of nature — to be watched and enjoyed.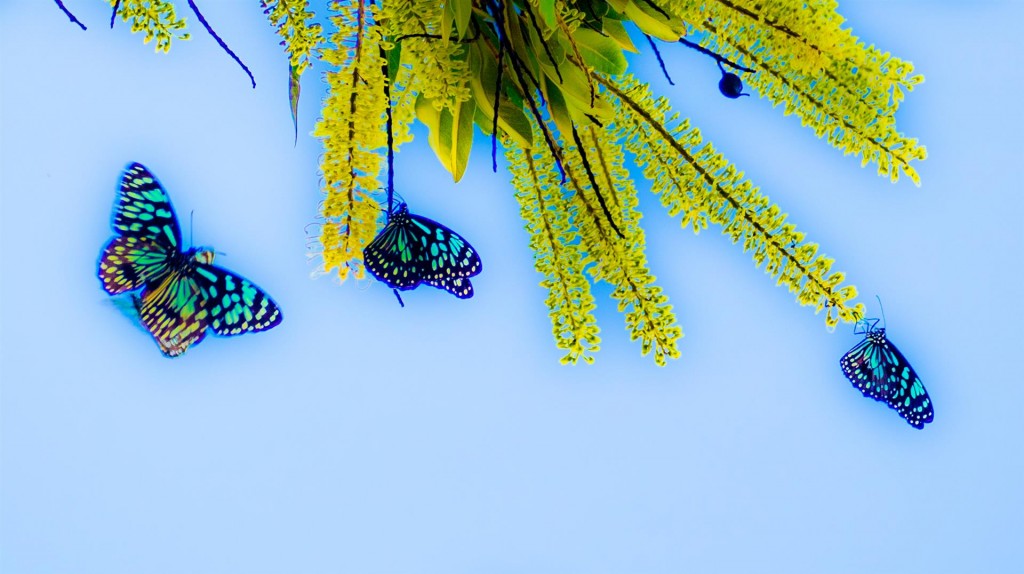 Links